Blow Dryer for Pets
$39.95
Upgrade your pet's grooming routine today with our 3-in-1 Pet Dog Dryer and enjoy a stress-free, efficient, and gentle grooming experience. Your furry companion deserves the best!
Elevate your pet grooming game with our 3-in-1 Pet Dog Dryer. This versatile tool is designed to simplify and enhance your pet's grooming routine. With a powerful motor and interchangeable flat and round heads, it's perfect for quick drying, styling, and pampering your furry friend.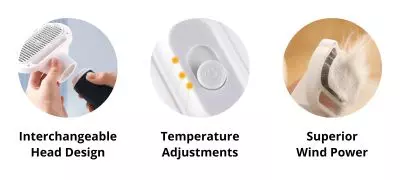 Say goodbye to noisy, stressful grooming sessions. Our dryer operates with minimal noise, ensuring a calm and comfortable experience for your pet. The fine needle design of the comb head allows for gentle detangling and shaping of your pet's fur, leaving them looking and feeling their best. Don't wait – upgrade your pet's grooming routine today and give them the care they deserve!
Advantages :
Versatile Use: Suitable for a range of small and medium-sized pets, including dogs, cats, and other small animals, providing all-in-one convenience.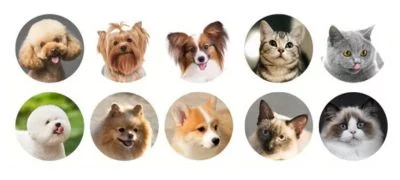 Versatile Grooming: With interchangeable round and flat heads, it's perfect for various grooming tasks, from fluffing fur to precision styling.
Efficient Drying: Our dryer boasts super-large wind power, ensuring quick and efficient drying, saving you time and effort. Operates quietly to keep your pet relaxed during grooming.
Pet-Friendly Noise Levels: The low-noise design keeps your pet calm and comfortable during grooming sessions.
Customizable Temperature: Three temperature settings allow you to tailor the drying experience to your pet's needs, preventing overheating.
Safety First: Overheating protection ensures the dryer shuts down if it gets too hot, providing peace of mind.
Easy Head Replacement: Say goodbye to dirty comb heads – our interchangeable design lets you replace them inexpensively for consistent results.
Specifications:
Wire Length: 2 meters
Rated Frequency: 50-60Hz
Maximum Power: 600W
Motor Speed: 20,000 rpm
Package Inclusions:
3-in-1 Pet Dog Dryer
Flat Head Attachment
Round Head Attachment
⭐  About Shipping ⭐
Estimated delivery time : 5 to 8 business days
Free delivery worldwide on all orders