Automatic Incubator for 18 Eggs
$92.00 – $93.00
The Automatic Incubator for Eggs is the best solution for anyone looking to hatch their own chickens, ducks, or other poultry.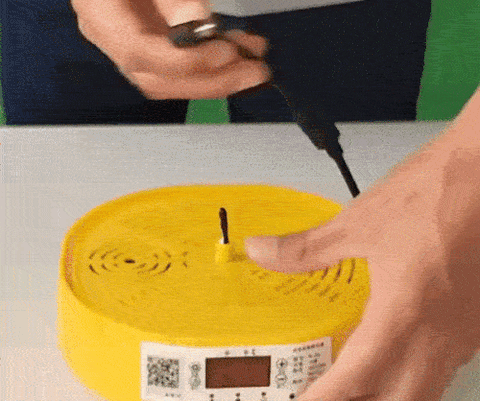 Advantages:
Automatic temperature and humidity controls: These features ensure that your eggs are kept at the optimal conditions for hatching, increasing the success rate of your hatch.
Automatic egg turning: The incubator automatically turns the eggs, mimicking the natural process of incubation.
Clear viewing window: The clear viewing window allows you to monitor the progress of your eggs without disturbing the incubation process.
Large capacity: This incubator is perfect for both personal and professional use.
Easy to use: The Automatic Incubator for Eggs is user-friendly and easy to operate, making it suitable for both experienced and novice hatchers.
Universal egg tray: This incubator can be used for hatching a variety of eggs, including chicken, duck, and other poultry eggs.
Temperature probe: The temperature probe ensures that the incubator automatically stops if the temperature is too high, and starts again if it is too low.
Silent fan: The incubator is equipped with a strong circulating fan that ensures a stable temperature distribution without making any noise.
Specifications :
Power: 30W
Hatching number: 6-18 pcs
Eggs Range of application: hatchery poultry, ducks and other birds, quail, parrot, dove and other birds.
Size: 16*16*13cm
US Plug ( 110V )
Voltage: 220V/110V
Automatic timed egg turning: yes
Automatic temperature control: yes
Automatic rehydration: yes
Options :
Option 1 "6 Eggs Incubator " is universal for chick/duck/goose/birds etc.
Option 2 "18 Bird Eggs Incubator" is only for quail/pigeon etc birds or small lutin chicken,not for chicken/duck/goose.
Package included:
Incubator, power cord , Feeding Tray , Small spray bottle , Hydrator , Foam box , User Manual (English )
⭐  About Shipping ⭐
Estimated delivery time : 5 to 7 business days
Free delivery worldwide on all orders 
Shipping policy  |  Refund & Return policy